Intel Rocket Lake-S CPU will support PCIe 4.0 and equip iGPU
---
Intel's Rocket Lake-S desktop platform is expected to launch in late 2020. According to VideoCardz at Intel, we have some more information about this platform.
Rocket Lake-S CPUs will use the 500-Series chipset, which is an upgraded version of the 400-Series. Motherboards using this chipset are said to be equipped with LGA1200 socket.
The main improvement is in the CPU core, which is said to be a 14nm version re-customized from Tiger Lake-U based on the Willow Cove core. Back to the Rocket Lake-S platform, it will support PCIe 4.0 as on AMD's motherboards, thereby helping users take advantage of the performance that NVMe PCIe 4.0 SSDs bring. Rocket Lake-S will have 20 PCIe 4.0 lanes, of which 4 will be for NVMe SSDs and 16 will be for PCIe slot of GPU.
Another interesting feature of the platform is that the iGPU section will use Intel's "homegrown" graphics architecture. Accordingly, it is said to support HDMI 2.0b and DisplayPort 1.4a connectivity. The bandwidth of Direct Media Interface is also doubled, from 4 links of previous platforms to 8 links. Announced at CES 2020, the platform will also support ThunderBolt 4 and USB 3.2 20G, along with some security improvements for users.
The leaked schematic we're sharing today is a basic overview of Rocket Lake-S's features. The 500 series motherboards will benefit from features not currently available on the 300- and even the upcoming 400 motherboards.
Rocket Lake-S is a feature update for Comet Lake-S.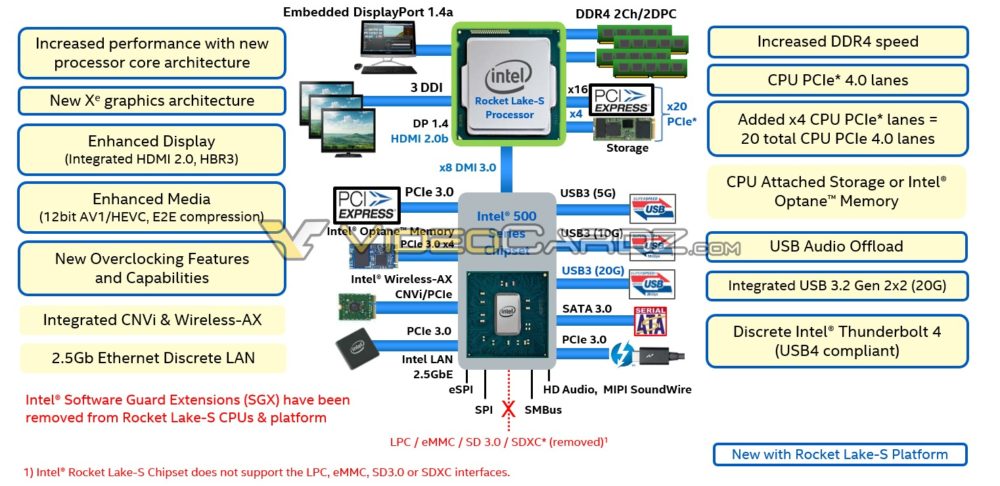 Key Features Intel Rocket Lake-S
New core architecture
Rocket Lake-S will have a new core architecture, without stating any other details. However, what is rumored to be Rocket Lake-S is rumored to be the 14nm Tiger Lake adoption, which uses the Willow Cove core.
20 PCI Express 4.0 Slot
The most important change for Rocket Lake-S is PCIe 4.0 support. The CPU not only has direct 4.0 slots, but also has 4 additional slots for storage (x16 for GPU and x4 for NVME drive). This means that both the main GPU and NVME storage will be attached directly to the CPU, not the PCH.
DMI 3.0 x8 interface connection
Will be upgraded to x8 link, which means the transfer speed is twice as much as x4. Intel doesn't state a baud rate for the new DMI connection, but the current x4 link has a transfer rate of 8 GT / s (3.93 GB / s).
Updated Intel display and graphics
The slide show confirms that Rocket Lake-S will benefit from the Vehicle graphic architecture (further proof that the RKL is a desktop clone of Tiger Lake?). The upgrade to Xe (presumably Gen12) will also bring support for HDMI 2.0b and DisplayPort 1.4a.
Thunderbolt 4 and USB 3.2 20G
At CES 2020 Intel confirmed that the Tiger Lake platform would support Thunderbolt 4. This standard does not provide an upgrade over Thunderbolt 3 in terms of transfer rate (still 40 Gb / s). There have been rumors that 4.0 may be using PCIe 4.0 but the slide clearly states that TB4.0 is still using PCIe 3.0.
SGX has been removed
Intel software protection software has been removed for Rocket Lake-S.
INTEL Mainstream Desktop CPU Platform Specifications
VideoCardz.com Kaby Lake-S Coffee Lake-S Comet Lake-S Rocket Lake-S Alder Lake-S
Fabrication Node 14nm 14nm 14nm 14nm (TBC) (TBC)
Launch Date 2017 2018 2020 (TBC) (TBC)
Chipset Intel 200 Intel 300 Intel 400 Intel 500 Intel 600
Core Series 7th Gen Core-S 8th/9th Gen Core-S 10th Gen Core-S 11th Gen Core-S 12th Gen Core-S
Max Core Count up to 4 cores up to 8 cores up to 10 cores TBC up to 16 (TBC)
Socket LGA1151 LGA1151 LGA1200 LGA1200 (TBC) LGA1700 (TBC)
Memory Support 2ch DDR4 up to 64GB 2ch DDR4 up to 128GB 2ch DDR4 up to 128GB 2ch DDR4 up to (TBC) (TBC)
PCIe Support PCIe 3.0 PCIe 3.0 PCIe 3.0 PCIe 4.0 PCIe 4.0
CPU PCIe Lanes 16 (3.0) 16 (3.0) 16 (3.0) 20 (4.0) (TBC)
PCH PCIe Lanes 24 (3.0) 24 (3.0) 24 (3.0) 24 (3.0) (TBC)
USB up to 10x 3.0
up to 14x 2.0 Z370:
up to 10x 3.0
up to 14x 2.0
Z390:
up to 6x 3.1 Gen2x1
up to 10x 3.1 Gen1x1 3.2 Gen 2×1 (10 Gb/s)
3.2 Gen 1×1 (5 Gb/s)
2.0 3.2 Gen 2×2 (20 Gb/s)
3.2 Gen 2×1 (10 Gb/s)
3.2 Gen 1×1 (5 Gb/s) (TBC)
DMI x4 3.0 x4 3.0 x4 3.0 x8 3.0 (TBC)
Integrated WiFi – Wireless-AC Wireless-AX Wireless-AX (TBC)
Display Support DisplayPort 1.2
HDMI 1.4 DisplayPort 1.2
HDMI 1.4 DisplayPort 1.2(1.4)
HDMI 2.0a DisplayPort 1.4a
HDMI 2.0b (TBC)
Intel SGX Security 1.0 1.0 1.0 removed (TBC)